Product Description
The JMF "DRAG" version intake manifold is for the hard core racers putting down serious power. If you need one of the highest flowing 4G63 intake manifolds available look no further. Over a year in the making, our DRAG manifold went through a complete overhaul. No corners were cut when it came to the design and functionality of this manifold. Every component on this manifold is CNC machined from billet aluminum, not a single weld is present. Extensive flow testing was conducted on several prototypes until we found the perfect design with the best balance possible.
Features:
Made form 6061-T6 aircraft quality aluminum

CAD designed

Fully CNC machined components, no welds

8 injector setup with a single fuel rail designed for OEM style injectors (injectors not included)

Modular bolt together design for cost effective upgrades from Race/Street versions

15° throttle body inlet eliminates turbulence and adds more intercooler pipe clearance

CNC machined velocity stacks

Tapered runners

5.68L Plenum Volume

O-ring'd head flange & TB flange eliminates the need for a gasket

5 port vacuum plate with 1/4" NPT threads

NOS provisions standard

Several different finishes and throttle body flange options available

Limited Lifetime Warranty
What's Included:
DRAG version intake manifold
(2) 3/8" brass hose barb
(1) 1/4" brass hose barb
(1) 1/8" brass hose barb
(1) 1/4" NPT brass plug
Custom stainless steel dipstick tube
Fuel rail mounts, spacers, and hardware
Throttle cable bracket and hardware
Stainless steel throttle body bolts
10AN fuel rail
Applications:
Testing:
A big thanks to FFWD for all their help with flow testing, check out a more in depth review of the flow results here.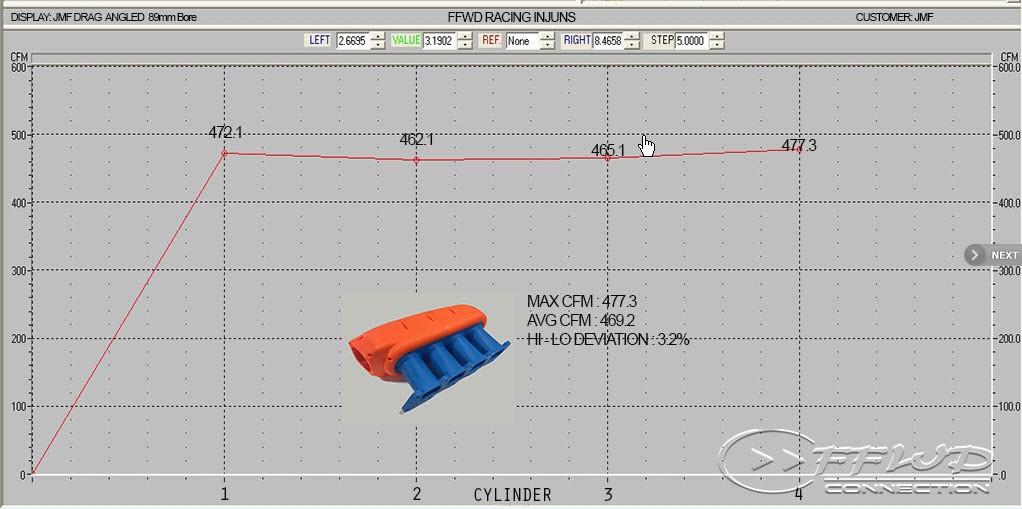 Additional Information:
Some modifications to your upper intercooler pipes may be needed as this manifold sits down a lot lower than stock. If using the Accufab and other aftermarket throttle bodies please note that the throttle cable and TPS sensors may need modifying. It may be necessary to rotate your throttle body 180° for proper cable clearance. If you need additional vacuum ports our Vacuum Distribution Block is a great option for up to 6 more ports.
MAP sensor mount not included, should you need to run the MAP sensor we recommend purchasing our 2G/EVO MAP Sensor Adapter kit.
Also available is a RWD version of this manifold for no extra cost, perfect for the custom 4G63 swap into a rear wheel drive vehicle.
Anodizing is available in several different colors, please contact us for more info.
***INSTALL TIPS: For those still running ABS the DRAG plenum is large and clearance is tight around the ABS module however the manifold will fit! During the install to minimize contact with the ABS module we recommend either removing the M10 studs in the head and replacing them with bolts or loosening the bracket that holds the ABS module in place allows you to push the module aside just enough to squeeze the intake in place. Once installed there is adequate clearance. Slight shaving of your alternator housing may be required. We recommend installing the EVO Spec alternator tension arm in place of the OEM bracket for added clearance. Also, it is very important that you have plenty of slack in your fuel lines so the fuel rail/mounts are not being stressed during engine movement. Do not mount a FPR directly to the fuel rail.***
Other Details
This item carries a limited lifetime warranty to the original owner. Any incident from nitrous and/or other alternative fuels will void the warranty. Thread damage from improper torque not covered.

Anodizing is not done in house therefore it will add about 7-10 days to the lead time.
Product Videos
Custom Field
Product Reviews